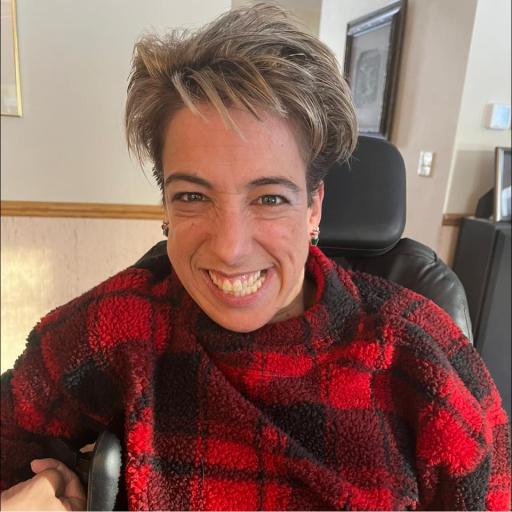 Stacy's Journal: The Rollercoasters of Life

2016-07-07
By: Stacy Ellingen
Posted in: Stacy's Journal
Places such as Six Flags and Noah's Ark are popular for many families.  Amusement parks and theme parks are usually fun relaxing places for most people.
That isn't the case for people with physical disabilities.  Rollercoasters and many other rides aren't accessible.  Even if I could get on a ride with assistance, because of my poor head control, I'm not allowed on most rides.
When my sister and I were younger, we did the Disney parks in Orlando, Florida.  We did a different park almost every year.  Disney is actually pretty accessible.  They do all they can for people with disabilities.  People with disabilities and their families are automatically moved to the front of the lines. I don't agree with this policy for the most part. It made my family and I feel a little embarrassed when we were escorted to the front of lines when sometimes literally hundreds of people had been waiting hours for a ride or an attraction.  We didn't feel right that just we got to go first just because I have a disability. 
In recent years, Disney has come under scrutiny regarding the policy. They've had issues with identifying people with disabilities and some people faking having a disability just so they could get to the front of the lines.  I believe there are some special circumstances where people should be granted the privilege of being at the front of the line.  When an individual is terminally ill and time is literally of essence, I believe they shouldn't have to wait in lines.   I also think that there some unique circumstances when people have a very hard time waiting because of their intellectual disability.  I'm not sure how Disney (and other theme parks) can police this.  Maybe people get a note from their doctor and then get a card when they arrive at the park that identifies that they need that privilege.  That's just my idea.
My family loves to go to Wisconsin Dells.  We love to swim.  Waterparks aren't very wheelchair friendly. We went to Family Land (now Mount Olympus) quite often when we were little.  It was less hilly and a little bit more accessible than Noah's Ark.  The wave pool and lazy river are my favorite!  The waterslides are really hard to access.  There are usually steep hills and stairs up to them.  I remember when I was really little, a few times my dad carried me up, handed me to my mom, he went down first so he could catch me when I came down with mom, and then I went down on mom's lap.  That only happened a few times though because it took a lot to get me up there.  I absolutely love the wave pool because I can sit in an inner tube by myself and ride the waves.  Someone has to be right next to me in case the tube flips, but I just love it!  My parents and I recently went to Mount Olympus again for the first time in 10 or 15 years.  I was surprised that the accessibility hasn't improved much.  In fact, in my opinion, it has gotten worse from how it was years ago.  Sure, they have accessible restrooms and changing rooms, but with all the new attractions and rides they've added (very few of which I could enjoy), it's much more hilly and hard to get around.
I understand that when most amusement parks and waterparks are developed people with disabilities aren't normally thought of as prime clientele, but we enjoy and deserve to have fun with our family and friends too.  I've recently read about how some amusement parks are becoming more disability friendly.  One theme park in Tennessee added a sensory room for those who have sensory disorders.  Other parks are making similar accommodations. To the best of my knowledge, there hasn't been a wheelchair accessible rollercoaster made yet.  If there ever is, though, you can bet I'll be the first in line!
Do I wish I could go on every ride just like everyone else?  Of course I do.  I would love nothing more than to be able to go to Six Flags for a day with a bunch of friends, but that's just not possible.  I figure life is full of enough rollercoasters I can ride!
***The views expressed here are strictly those of the author and do not necessarily reflect those of InControl Wisconsin, the Network or any of our sponsors.
Tags