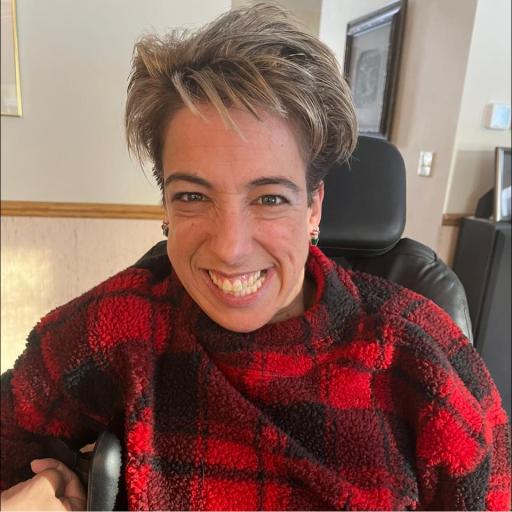 Stacy's Journal: Never Give Up

2022-08-04
By: Stacy Ellingen
Posted in: Stacy's Journal
"Don't give up…don't ever give up." That was the famous quote from Jim Valvano's famous speech at the ESPYs in March of 1993. He was a famous college basketball player and later coach who was accepting the Arthur Ashe Courage and Humanitarian Award.  Jim was courageously battling cancer. Variations of that quote have been used in many different ways in the years since his speech. It's likely that everyone has been told "not to give up" on more than one occasion in life. Whether it's for something as simple as a child scoring in a sports game or something as serious as a person with a terminal illness fighting to survive, hearing people say those encouraging words usually ignites a spark of encouragement in the person. The motto, "never give up," is often heard in the disability community. For many people like myself, it's a motto we choose to live by.
In an entry a few years ago, I wrote about how comparing our lives is human nature. It's something we all do without even realizing it. While often comparing is a reaction to jealousy of someone's circumstances or good fortune, it sometimes can be reflective and can make people realize how well they're doing despite life's obstacles. It can help people see what may be possible even when life throws you curveballs.
If you've been reading my entries, you probably have figured out that I'm a pretty ambitious person. Thanks to my family, growing up I was taught not to give up.  Obviously, there are some things that I want that are just not possible due to my circumstances, but, if there is a chance it could work with accommodations, I was taught to pursue it until it was accomplished. It started early on when I refused to take assignment modifications even though things took me much longer to complete than most of my classmates. It was the same with going to college, finding an apartment, and eventually finding employment. I was taught to keep fighting regardless of how many obstacles get in your way.
Over the years, I've witnessed many people with very similar circumstances choose to not to make use of the abilities they have. Often, these people have more physical capabilities than I do (mainly the ability to verbally speak which is huge), but don't take advantage of them because they don't have the ambition to jump through the so called "hoops" to get the accommodations they need. When I see this, it's incredibly frustrating for me because I can't help but think if I had the abilities they do where I would be. Another example is when people abuse the Social Security system. While I understand that some disabilities and health conditions are hidden, there are a lot of people who claim disability that would be fully capable of working. I can't say much because I'm obviously on the system; however, I'm doing what I can to help provide for myself. Do I wish I was able to do more? Of course—I'd love nothing more than to be able to make enough income to be able to not be rely on the government programs, but that's not physically possible for me.
There are many different types of "giving up."  A few years ago, there was a big conversation among the disability community about the book entitled, "Me Before You." It's about a man who becomes paralyzed and he wants to commit suicide. However, because he's physically unable to, someone else would have to assist him. There was discussion about ethics. Should someone be able to assist someone in ending his/her life if the person so desires? That's a loaded question that has no right answer. Some people with disabilities and health conditions feel like their life isn't worth living anymore and think it'd be better to end their life. Another example of "giving up" is when, sometimes, older people decide they have lived the life they desire and are ready to move on to the next endeavor. They Intentionally do things not to prolong their lives.
"Never give up" has been my motto for years. I used to close with it when I presented to high school students. It's extremely hard for me to watch others not take advantage of the abilities they do have. I'm sure some people feel that I don't take full advantage of my capabilities either; and, I respect and accept that opinion. Knowing that just pushes me to try and accomplish new things. For me, giving up will never be an option. My family and friends have worked too hard to support me in all my endeavors for me to give up on them. Sure, I have days where everything is going wrong and I feel like giving up on everything—I think everyone does, but it's in those trying times where Jimmy V.'s words really come to fruition. "Don't give up…don't ever give up."
***The views expressed here are strictly those of the author and do not necessarily reflect those of InControl Wisconsin, the Network or any of our sponsors.
Tags