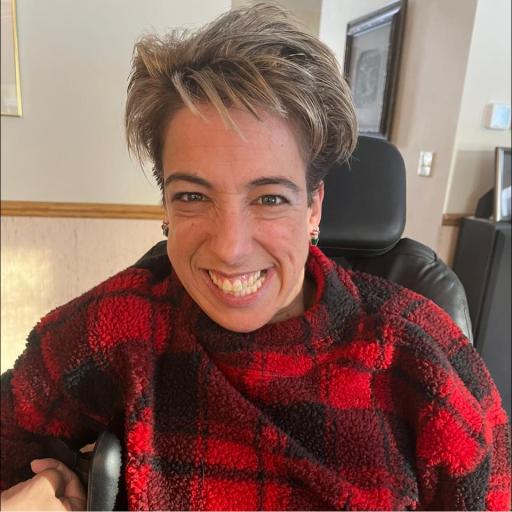 Stacy's Journal: In a Perfect World

2022-07-05
By: Stacy Ellingen
Posted in: Stacy's Journal
Ever imagine what a perfect world would look like? A world where everyone would see eye-to-eye, where there'd be no right or wrong, where everyone was treated equal? What would that even look like? In today's day and age, it's hard to even fathom.  What would a perfect world even look like? Would there be sickness? Would there be disagreements? How would every person be treated? Would there be disability? If so, what would ideal services look like? All of these are deep questions to ponder and there isn't a right answer.
As I mentioned before, I'm not an overly religious person, but I do believe that there is a reason I survived complications from a traumatic birth. I believe I won't truly know why until I reach the other side, but there is a reason why I survived. Admittedly, when things get hard due to having cerebral palsy or not having sufficient services to help me live the life I desire, I think about this. Thoughts such as, "why can't I get the support I need?" or "why do I have to deal with this?"  often creep into my head when things aren't going right. Of course, it does no good to dwell on it, but the fact is that it's unavoidable.  
The Americans with Disabilities Act was signed 32 years ago this month. Laws such as this have made a huge impact on the lives of people living with disabilities, but, yet, many people struggle to get long-term care support services. I've written about my care situation many times.   While it's been a few months since I've written an entry about it, things haven't improved. For over six years now, I've been hiring my own caregivers through IRIS Self-directed Personal Care. In that time, I've experienced the whole spectrum of craziness. Some of the stories you wouldn't believe. The bottom line is still I can't get reliable workers. Practically every day, I'm dealing with trying to fill a shift because someone called in. My parents continue to be my saving grace, but this has put a strain on our relationship too. They're retired and want to travel all over the place as they should be able to do, but, because of my situation, they can't leave me behind. This has resulted in arguments because they want me to go with them on multiple longer trips (because they can't risk leaving me hanging if someone calls in or doesn't show), but I don't want to be gone that long for multiple reasons. First and foremost, if I'm gone a longer length of time, I risk losing the workers I do have—even with the low wages they make, these college students count on the income. Second, I have a job and commitments I need to fulfill. Yes, most of it is remote, but I have an elaborate computer setup I use at my apartment. When traveling, I have an iPad that I bring along that I can attend meetings on, but I can't complete what I need to do on it. "I hate being a burden," I told my mom during one of our recent discussions about this topic. Of course, she told me that I'm not, but I explained that I know I am. This seems to be a frequent conversation these days.
Long-term care services go beyond daily care needs. There are many disparities among things such as housing, transportation, therapy services and medical equipment. After direct care, housing and transportation are the two most talked about disparities in the disability community. There aren't enough accessible housing options for those with disabilities. If people want to live in a non-segregated setting, finding something accessible is nearly impossible. I'm fortunate to have found my apartment over 10 years ago. While it started out as being a complex for those with disabilities, it has since changed to a complex for people who receive housing assistance—not only people with disabilities. Personally, it's still not the ideal situation for me because I don't think of myself that way (in my opinion, I'm only considered to be low income because of the restrictions I have due to my disability), it's better than nothing. Transportation continues to be another issue for people with disabilities. Simply put, there aren't enough accessible options available. I've had to limit my trips out and about because the only accessible cab in my city is so unreliable.  Disparities in treatment options and equipment also continue to be a challenge for many people with disabilities. Limiting the number of therapy sessions one can receive because it's not considered "rehabilitative" is ridiculous. In my opinion, if therapy helps a person feel better and possibly prevents losing more function, they should be able to continue with therapy. These services are necessary to keep a person as healthy and, in some cases, as independent as possible.
In a perfect world, assuming disability a part of it (we could debate that issue forever and never come to an agreement), care would be something that is readily available to those who need it. Caregivers would get paid adequate wages and receive benefits and training. People who needed care wouldn't have to fight tooth and nail to get dependable hard-working people to assist them with their basic needs. All long-term care services would be available to those who need them without having to jump through a million hoops to justify you need them.
Unfortunately, we know that a perfect world doesn't exist and probably will never will. This means that we have to continue to advocate for what we deserve. Often, when we constantly advocate for what we feel what's right, it feels like we hit dead-ends; like we've done all we can, but things aren't changing. It's in those challenging times that we have to continue to push ourselves to fight for what's right. There may never be a perfect world, but knowing our efforts will impact generations that come after us should give us motivation to continue the fight!
***The views expressed here are strictly those of the author and do not necessarily reflect those of InControl Wisconsin, the Network or any of our sponsors.
Tags