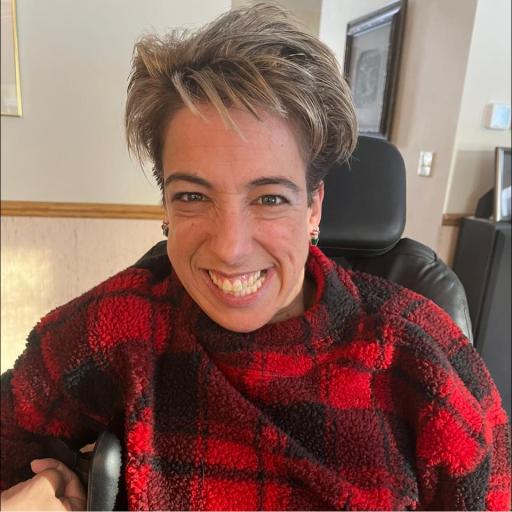 Stacy's Journal: Words DO Matter

2022-04-02
By: Stacy Ellingen
Posted in: Stacy's Journal
"Sticks and stones may break my bones, but words will never hurt me." Yes, I'm aware that I used this quote to start a journal entry a mere two months ago; however, due to recent events at the Oscars, I felt I couldn't find a better quote to exemplify just how much words do hurt. We all know that the quote is untrue. The Oscars were supposed to be a night of celebration—there was so much to be celebrated—especially for the disability community. The movie, "CODA," won the Academy Award for best picture. It also won the Oscar for best adapted screenplay, and Troy Kutsor became the first deaf actor to win an Academy Award. "CODA," which stands for child of deaf adults, is about a teenager who often interprets for her parents discovers she's a great singer, but finds herself divided between family obligations and pursuing her dreams. The disability representation was amazing, but one joke by host, Chris Rock, about Will Smith's wife and Will's extreme overreaction overshadowed the so many positives the night brought.
For those of you who have not heard, Will's wife, Jada, has a condition called alopecia. It's a skin condition that often leads to hair loss which is true for Jada—she has no hair. Chris Rock, a comedian, made some snarky joke about her starring in the next G.I. Jane movie, and Will got upset. He walked up on stage, slapped Chris, and started yelling expletives. This was all on live tv. I believe they cut to commercial, so not everyone saw the whole thing. However, it's all over the media. 
Was Will wrong? Definitely. Was Chris wrong? Definitely. They both were. Will's overreaction was extreme and should and will have consequences. Chris was also wrong, though. Did he know about Jada's condition? Some reports say he did; others say he didn't. Regardless, this brings me to my main point of this entry—making jokes about somebody's appearance or abilities is never okay.
I'll be honest, I was watching the Oscars, but somehow, missed the whole situation. I went to bed before it was over and didn't see Will's acceptance speech when he won best actor where he apologized for his actions. I became aware of the situation when I turned on the news the next morning. When I heard about it, I'm not going to lie, I kind of sided with Will. No, I'm not saying I condone his actions at all, but he was sticking up for his wife who got made fun of for a condition that she can't help. People with disabilities or health conditions, including myself, can relate to this situation. Many people who look a little different than the norm are often the brunt of jokes.
Several years ago, a fairly new caregiver said something to the effect of, "you know, you're lucky, you never have to buy new shoes because yours never wear out," as she was feeding me lunch. She was implying that since I can't walk, I don't need to buy new shoes (which couldn't be farther from the truth, but that's beside the point).  I was taken back by her comment, but didn't really react to her. Later, I posted it on my Facebook page thinking it would reinforce people to think about what they say to people. I was surprised when several people with similar circumstances thought it was funny. Of course, there were some people who agreed that it was insensitive, but we had an interesting conversation about it on my Facebook page.
I've also had people tell me that I'm lucky because I was lucky because I always have a seat. Now, I realize that there probably wasn't any ill intent; people just weren't thinking. However, words do hurt. I rarely respond back because I know they didn't mean it in a harmful way. Whenever people say something like that to me though, it does affect my mental health. Really? Am I lucky to be in a wheelchair? Seriously? I'd gladly trade places with you and or walk if I could. Those are my thoughts when people say that I'm lucky because I always have a seat.
I realize I'm more sensitive about my condition than most. Other people are much stronger than I am and don't mind when people make degrading jokes about their appearance and abilities. In fact, there are some semi famous comedians with disabilities who use their personal situation as content for their shows. While I understand the concept of using your circumstances as material makes people less uncomfortable, I can't bring myself to agree with it. Why make fun of your appearance or abilities when we advocate for society not to? Isn't that a double standard? It doesn't make sense to me.
I realize that there are many different opinions about this topic, and I respect that. In today's world where everything is so divided, I would hope people would to accept people for who they are, and if they want to make a joke about someone publicly, at the very least, ask the person beforehand if it's ok to use. Personally, I love Will Smith as an actor, but I think he's going to have a really rough road ahead of him. Physically hurting someone on a very public stage erases all the fame he once had. In my opinion, I think both Chris and Will should have taken a minute to apologize to each other (and Jada) at the end of the night. Will probably still would have faced consequences (as he should), but I think that would have done a lot for reputations of the two.
The lesson everyone can learn from all this is that words really can hurt. We knew it before; this situation just emphasized how much they really can. Be mindful of what you say to people. Words DO matter.
***The views expressed here are strictly those of the author and do not necessarily reflect those of InControl Wisconsin, the Network or any of our sponsors.
Tags