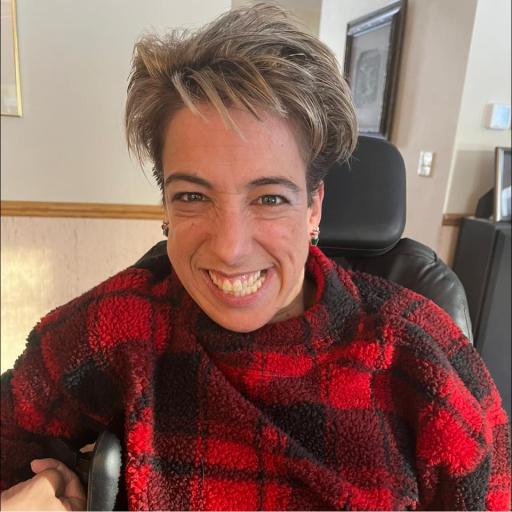 Stacy's Journal: Label Language

2022-02-08
By: Stacy Ellingen
Posted in: Stacy's Journal
"Sticks and stones may break my bones, but words will never hurt me." Many people have heard that saying as kids; however, we know that's not true. Words hurt. In today's world, we feel the need to put labels on people more than ever before. Racial labels, economic labels, sexuality labels, political labels… the list goes on and on. There are occasions when labeling people is necessary and helpful, but, more times than not, putting a label on someone causes hurtful feelings and an unpleasant stigma. While belonging to a minority is becoming more common in today's society, being singled out is never fun.
A quick Google search revealed that one billion people live with a disability in the world. Yet, we are still considered a minority. For years, there has been a debate among the disability community as to how we identify ourselves as persons with disabilities and how we want others to address us when talking about our situation. Years ago, terms such as "handicapped," "crippled," "retard," and "disabled" were used to describe persons with a disability.
In the 90s and early 2000s, the people first language began. It was meant to identify the person before the disability. For example, instead of saying a "disabled person," you'd say a "person with a disability."  Of course, thankfully, the world, "retard," has slowly faded away when identifying someone who has an intellectual disability. For a few years, "cognitive disability" was used, but now "intellectual disability" has replaced it.
A few years ago, a new movement started going back to labeling people with disabilities as "disabled." People with disabilities want to be considered a group in society and want to communicate that disability is a normal part of life. In other words, there's nothing wrong with being "disabled." People want the general population to know being "disabled" is okay. Many people with disabilities consider themselves part of a unique minority and are proud of it.
You may have noticed up to this point in the article that I've not said "disabled people."  This was on purpose. Personally, I don't like the term "disabled" used to describe anyone. When I think of the word "disabled," I think of something that does not work. A disabled car, for an example. What does it portray when we use the same word to describe a broken-down vehicle that we do a person? Yes, I understand that we use adjectives to describe different things all the time, but, to me, "disabled" never should be used to describe a person. Nobody is completely "disabled."  In my opinion, the word "disabled" has a negative connotation in today's world. Regardless of the circumstances, I believe that every single person that's born on this earth has the ability to do something.
I'm also not fond of the idea of moving away from people first language. While I understand the idea of being seen as collective group of people in society, I like to think people see the person I am rather than a "disabled person." Do I identity as a person with a disability? Sure, and obviously it's a huge part of my life. However, my disability doesn't define the person I am. When this topic comes up, I think of a quote from a children's book I read years ago.
"I'm a person who just happens to have a disability, but that doesn't mean that I'm a disabled person."
~Golden Daffodils by Marilyn Gould
I understand that some people may think this contradicts being a disability self-advocate, and I can't argue that they're wrong; however, being an advocate and preferring a certain label are two different things. I still strongly advocate for people with disabilities; I just prefer to be categorized as someone living with a disability rather than a disabled person.
Many, in fact most, people with disabilities have a different opinion about this issue. I totally respect that. I do understand why people want that commodity of being viewed as a group or culture. There have been lots of discussions about this in my disability Facebook groups, and there are so many different opinions about this. It's one of those controversial topics that will be debated forever because there are no right answers. Stepping back, it's unfortunate that we are forced to put labels on everyone for everything. In a perfect world, we'd have no labels and one's name would be enough, but that's not the case. We have to respect each other's preferences and be open to learning about differences. As I always say, we only get one chance to live. We have to remember to make it count not only for ourselves, but for others which means doing our part in respecting each other's preferences.
***The views expressed here are strictly those of the author and do not necessarily reflect those of InControl Wisconsin, the Network or any of our sponsors.
Tags