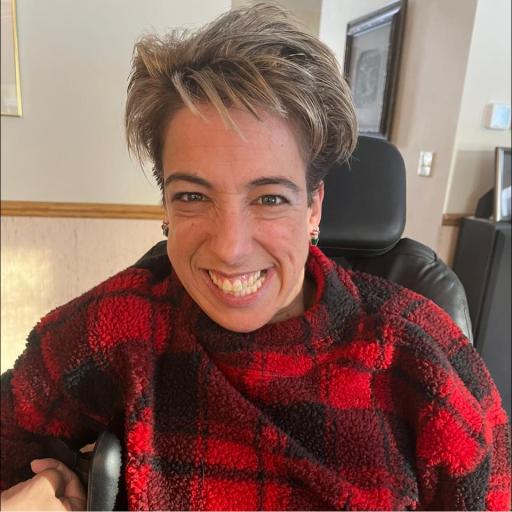 Stacy's Journal: The Caregiver Shortage Becomes Dire

2022-01-16
By: Stacy Ellingen
Posted in: Stacy's Journal
"When a person can make more money flipping burgers at McDonald's or stocking shelves at Walmart than they can helping people literally live, it's nearly impossible to find people." I use something to that effect when I talk about the caregiver shortage. The workforce shortage has elevated to the crisis level in recent years, and now it seems to be even more of a dire situation. The national guard is assisting in some of the state institutions. Nursing homes are turning people away because they don't have enough staff. People are going without care in their homes. Elderly parents are being forced to take care of their adult children with disabilities. It's endless. Something has to give, but nobody seems to know what the solution is.
I'll be honest--I've been extremely lucky for about a year and a half with staff. I've had a decent core group of girls who have been awesome about helping me cover shifts. They've also recruited friends of theirs to work with me. Sure, we've had rough patches where shifts weren't able to be filled, but, for the most part, it's been really good. Having said that, I'm finding myself scrambling to find people to hire. Right now, most of my workers are college students, and they have clinicals or internships. Then, ultimately, obviously they move on. They're also typical "college students" and, to no fault of their own (I get it—I once was in college too), socialization often comes before work. As I get older, I notice how prioritizing changes with age. As the age gap grows and I deal with young kids, it's very apparent that priorities differ with age.  
I knew it was coming and knew the drill all too well. I posted on the website where you can post a job without paying (the website only sends you a few applicants when you don't pay, but most websites won't even allow you to post unless you pay) and I posted on every Facebook job group I could find. I posted it on my own profile and ask my friends to share it as well. I always have my ad up on Handshake which is the student employment website for UW-Oshkosh, but I haven't had much luck with that—I've been told students don't look on it very much. With those advertisements up, this time, I've literally got three names. One of the people is a past caregiver's daughter who has just graduated high school and finished the Certified Nursing Assistant (CNA) class and want to get some experience. The other two came from the website and we're interviewing one of them (if she shows). I probably could use two or three more people, but I can't find anyone even interested.
This is a common problem across the state. Workers in almost every field are desperately needed. It's almost like jobs are competing against each other, and, unfortunately, caregiving is often considered "dirty work" which nobody wants to do. For the millions of people like myself who literally rely on caregivers to survive, it causes a serious problem.
Rates increased a little bit at the beginning of the year which definitely helps, but it's nowhere adequate for what caregivers do. When people can make more money doing something mundane like working as a cashier at a dime store or flipping burgers and a fast-food joint, why would anyone want to make less money taking care of people which often involved very strenuous and disgusting tasks? There have been many discussions about this in the different councils I'm involved in. People also have brought up another great point—not necessarily in my situation at the moment, but, many times, caregivers also have lower economical status and often qualify to receive state benefits as well. There's nothing wrong with this; however, those people often don't want to work as many hours as they could in fear of not qualifying for things like BadgerCare. It's very understandable, but where does that leave people like myself who literally rely on caregivers to survive? It's a vicious cycle for everyone involved.
I'm hearing about a lot of agencies and nursing homes offering workers just outrageous bonuses to work. In fact, I have a worker who also works at a nursing home back in her home town, and she was telling me about how their paying workers a ridiculous amount to pick up shifts. I explained that while it's awesome for her, it seems unfair to people in my situation because we literally can't pay workers more than what the state allows (it's illegal to pay people additional cash if you receive care through the state). Once people have worked with me for awhile, I try to show my appreciation by dinner every so often or something little like that. However, I understand that while it may be appreciated, it's not enough to sustain workers.
I'm very blessed with amazing parents who will continue to fill in the gaps for me until they physically are no longer able to. While I have an awesome sister and brother-in-law who will help in the short term when that time comes, I'll ultimately end up in a care facility. It's mentally draining to constantly worry about cares. Between that and various medical issues, it has consumed my life in recent years. To the average person who doesn't know anything about the "system," when I talk about the caregiver shortage, they often can't comprehend why it's such an issue. Most people think that there are agencies that we can call who will automatically provide support. I find myself explaining unfortunately that's not the case. When I explain the system a little, they are often flabbergasted how things really are.
I don't have the solution to this massive issue. While I do think adequate pay and maybe some benefits would help, I don't think that's the whole issue either. People don't want to work period. When you have an overall lack of enthusiasm to work and can make more money not working, how can you blame them? It's going to come to a boiling point sooner than later, and something will be forced to change. I don't know what that point is (and I'm scared to find out), but something has to give. All we can do is keep advocating and telling our stories about the crisis. It often seems pointless because it's all we've been talking about for years now, but, eventually, something will have to change. I'm beyond ready to find out what that change is!
***The views expressed here are strictly those of the author and do not necessarily reflect those of InControl Wisconsin, the Network or any of our sponsors.
Tags