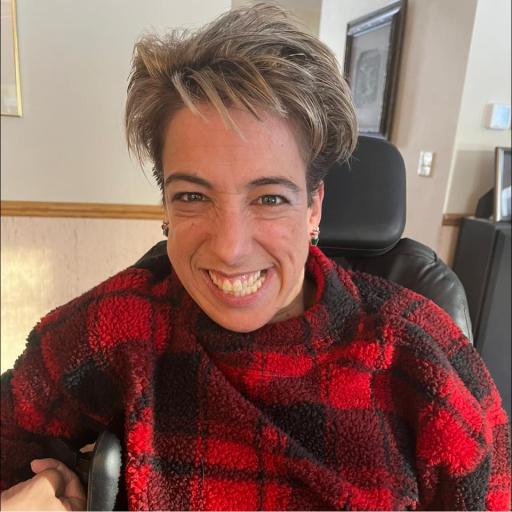 Stacy's Journal: Eagle Tower

2021-10-28
By: Stacy Ellingen
Posted in: Stacy's Journal
"Remember this because I won't be able to do this again," I vividly remember my dad saying as he carried me all the way up the Eagle Tower at Peninsula State Park in Door County when I was seven or eight years old. At the time, I certainly didn't recognize or appreciate the beauty of the view from the top of the tower or how much work it was for my dad to carry me up and down it. Looking back at it now, I realize how hard it must have been, and, really, how unsafe it probably was for him to do that. As I've discussed in previous entries, my parents do everything they possibly can to make sure I get to experience as much as possible.
A few years ago, I started hearing about how the Eagle Tower was going to be redone. It had been closed for a while because it was deemed unsafe. It was eventually taken down. There were articles going around on social media about how a group called Friends of Peninsula State Park was trying to raise enough money to build an accessible tower. They raised over $750,000 towards the new tower and canopy. It was started in 2020 and opened in May 2021.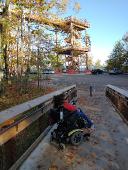 This summer, many of my friends who use wheelchairs posted pictures on Facebook of them going up the tower. All summer, my parents were trying to find a day to get me up there, but, due to busy schedules, we never could. Finally, a few weeks ago, I couldn't find care coverage for a Saturday night and Sunday morning. My parents decided that would be a perfect time. Because it was peak time for colors in Door County, there wasn't a hotel room to be found. I tried saying it's ok – we'll get there next year--but my parents weren't going to take that. We ended up leaving Oshkosh early on a Saturday morning and driving up there. It ended up being six hours of traveling because we had to drive back the same day, but it was worth it!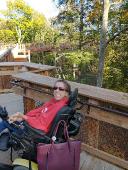 When I first saw the tower, I was simply amazed by the scaffolding and ramp.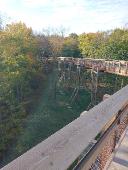 The 850 foot ramp swerves up the 60 foot tower. What caught my attention when I first approached the ramp is the width of it. I don't know the exact measurement, but it's wide enough to fit two wheelchairs side-by-side on it. Of course, that's not a likely scenario, but most ramps like that are usually pretty narrow. I was extremely pleased that I had no problem driving up, and people could walk on either side of me - - that usually never happens on a ramp. There are several bench cutouts on the ramp for people who need to sit and rest on the way up and down. What I also noticed is that there are several places where the wood railing is replaced with wire, so people in wheelchairs can see out below. I thought that was really neat because part of the experience is being able to see how high up you are, and, most of the time on things like that, railings or guardrails often prevent the view for those of us who can't see over. The view from the top is just breathtaking. There are a couple of places at the top where it's cut out and have only wire fencing, so people who use wheelchairs can see below.

The panoramic view is incredible!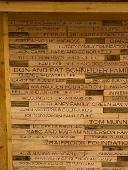 At the bottom of the tower, there is a wooden wall and each piece of wood has a name of someone who donated to the project on it. It's really neat to see how many people donated to the project. My mom went into the clubhouse to get a park sticker when we first got there, and the guy told her that the tower is actually 15 feet shorter than the old one. It was almost as if he was disappointed about that. I did some research on the Internet and found out that they made it shorter because it's the best height to see the view.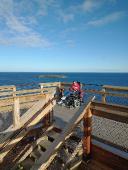 I find it ironic that this new accessible tower is in Door County. Door County isn't usually known for its accessibility. Many of the shops and restaurants are still inaccessible. I understand the smallness and daintiness of the places is often what makes them unique, but in my opinion, it's time to make changes so that everyone can enjoy these places. Maybe the tower will influence owners to make necessary changes to their places so that everyone can enjoy them.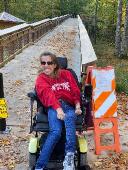 It's really cool to experience something that you never thought would be possible, and know it was made possible due to generous people. In today's world of so much doom and gloom, it's refreshing to experience humanity first-hand. What a gift to be able to witness the beauty of humankind!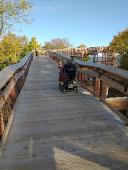 ***The views expressed here are strictly those of the author and do not necessarily reflect those of InControl Wisconsin, the Network or any of our sponsors.
Tags