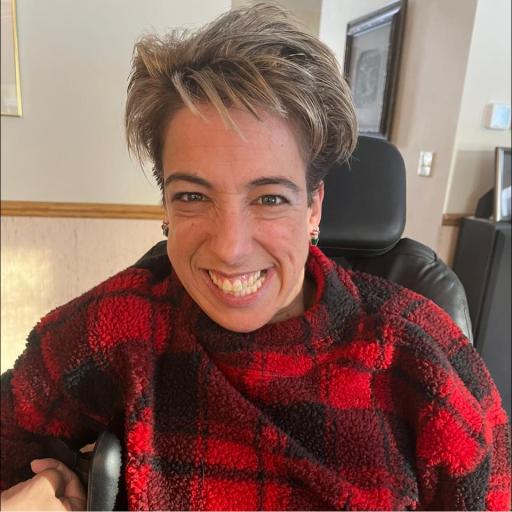 Stacy's Journal : Finding Silver Linings During a Pandemic

2020-05-07
By: Stacy Ellingen
Posted in: Stacy's Journal
"Come on, Stace, let's go for a ride," my dad has said almost every day during this quarantine. Most people in today's society had no choice but to quickly experience what it's like to stay at home all day, everyday. For many people, this has been a huge lifestyle change. Many people are used to going to multiple places every day. Whether it's to the grocery store, a hardware store, work, a restaurant or somewhere else, most mid aged people are accustomed to going somewhere every single day. However, for many people with health conditions or disabilities, staying home is the norm. 
As I've explained in previous entries, under normal circumstances, I leave my apartment once a week to go grocery shopping. Between care and transportation, it's just not feasible to go out much more than that. I've gotten used to it, and it's normal for me. Of course, thanks to my family, I do have the opportunity to travel for various things pretty often, but, for the most part, I'm used to staying at home all day alone, in my apartment.   I have learned to find enough stuff to do to keep busy, and, thanks to the Internet, I'm able to do almost everything I need to from my computer.  
So, I laugh to myself when I hear people complain about being "stuck at home."  My parents aren't very good at it. As I said above, my dad and mom go for a ride almost every single day. Most of the time, they drive around country roads and don't even get out.  In the beginning, I went with, but it got boring. They don't understand it, but I'd much rather stay home and actually do something. Whether it's read a book, be on my iPad, or watch something on Hulu, i like doing something rather than aimlessly riding around in the back of a car. I'm guessing that's because that's what I'm used to doing.
That said, I think this quarantine will bring out some positive aspects for people with disabilities. It will show society that a whole lot more things can be accomplished from home. A lot more jobs can be done from home, which in several situations has been often a difficult accommodation to get. Another thing that will become more popular are Tele-health visits. As we know, transportation continues to be a huge obstacle for many of us with disabilities. Being able to meet with doctors online rather than going to a clinic or hospital would be much easier. I also believe other things like grocery delivery and online therapy sessions will become popular and more affordable. 
Another thing that has resulted from this is how we socialize. Yes, we all miss being able to give our family and friends hugs: however, the concept of using video chatting has exploded. Before the pandemic, video conferencing was mainly used for small meetings where one person physically couldn't make it. Now, everyone is using it. Whether it's a meeting with over 100 employees, a school classroom, a happy hour with friends, or something else, video conference calls have become a regular daily occurrence for many people. Again, for many of us who have disabilities, this is exciting news. Due to many different factors, social isolation is often not avoidable for many. Video conferencing becoming more popular in today's society and will likely allow people to socialize more who otherwise wouldn't be able to. 
Life as we knew it probably won't ever be the same; however, like with everything, there are silver linings. We need to focus on what those are and stay positive for one another!
***The views expressed here are strictly those of the author and do not necessarily reflect those of InControl Wisconsin, the Network or any of our sponsors. 
Tags