Lifestyle Development From People with Disabilities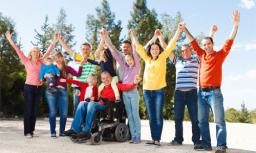 We have the opportunity to band and bond together in consideration of for sure at least 5 major aspects of our lives:    our faith based activities and devotion, our service undertakings, our lifelong learning, our involvement with government and civic groups, and our employment and patronism to businesses. 
By sharing and comparing what we do with our religious pursuits, volunteerism, studies and personal development, patriotism, and hardwork and consumerism, we can unveil opportunities for us to better participation with disability services for grander accomplishment.      
Are you in to dream a little bit more and put imagineering to practice how we can make Wisconsin markedly improved for us at home, the homeless, and the houseless?
It takes all of us in unity and unification to stir up the great ideas and the addition efforts that will further motivate and inspire a ton of our peers to participate and commit to making Wisconsin more ideal for us. 
How about it?    Are you in to see how we can all help each other out in more and more ways?