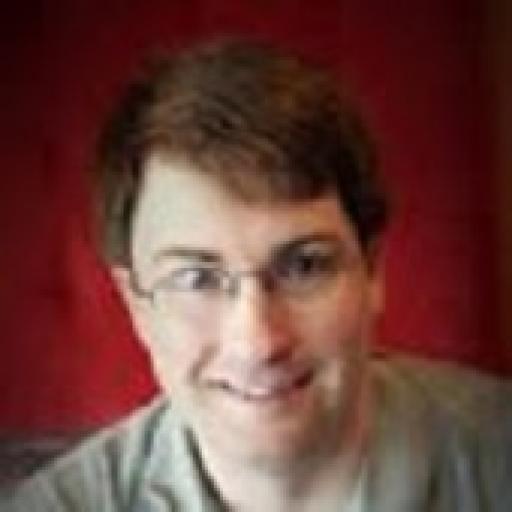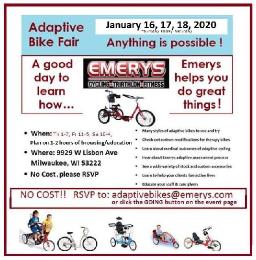 Saturday January 18 2020, 10:00 AM - Saturday January 18 2020, 4:00 PM
@ Emerys Cycling, Triathlon & Fitness - Emerys Milw/Tosa...
Attendees: @Kurt
4th Annual Emerys Adaptive Bicycle Fair at Emerys Cycling, Triathlon & Fitness in Milwaukee, Thursday January 16 to Saturday January 18, 2020. No cost to attend.
Remember to RSVP on our event page
Please print our event picture as a flier to hand out to any staff or clients. We appreciate that!
This event is a must attend for therapists, therapy clinics, school systems, pediatric hospitals, orthopedic doctors and staff, PA's, nurses, recreation departments, group homes, parents, care givers, funding agencies etc., as well as families and individuals of any age / any disability / any size!
Anyone interested in getting the differently-abled moving better than has ever been possible.
You will find
* A large selection of adaptive bikes to suit every size and need.
* Indoor riding stands with adjustable resistance for adaptive bicycles that allow fitness year-around in clinics, school and homes.
* Modifications for improvement for any area of any adaptive bicycle to facilitate better ergonomics and ease of use.
* Custom bicycles and modifications that are not available anywhere else. There is no challenge that we cannot create a solution for. Our solutions have life changing, industry leading results.
* Gearing choices that reduce effort to the point that low tone clients get their wings and go at an activity level that has never before been possible.
There is no cost to attend. We recommend 1-2 hours to browse the amazing variety of products and get educated on how we can improve the medical outcomes with at-home use of a therapy bicycle. This is the biggest selection of adaptive modifications, parts and bikes in this part of the USA.
From our client assessment process to the stock and custom products we carry, we get the disabled riding more successfully, more comfortably and year 'round for better outcomes.
We are pleased that representatives of Variety Childrens Charity of Wisconsin will be here to talk about their funding programs for families who don't qualify for agency funding and cannot afford an adaptive bike.
Special guests who race with hand-cycles and specialty made bikes will be here at some hours to share their experiences on how adaptive bikes have changed their world.
COST:
No cost to attend. Please RSVP so we can plan a great event for you.
RSVP:
Click the going button on this event page.
WHERE:
Emerys Milw/Tosa location 9929 W Lisbon Avenue, Milwaukee, WI 532322
Parking is available on 100th Street and on Lisbon Avenue. Overflow parking is in the bank parking lot across the street.
Check out the 14 videos showing many adaptive bikes, parts and accessories we offer.

Click on the Playlist #1 titled "Adaptive bicycles are a specialty at Emerys"
One of our video's is 10 minutes long and is a tour of the products at one of our Adaptive Fairs.
Keep in mind. most of what you see, we keep in stock every day of the year.
Check out our Adaptive Bikes Facebook page at:

.
Keep the pedals turning,
Brent & The Emerys Crew
Emerys Adaptive Bicycle Division
9929 W Lisbon Avenue
Milwaukee, Wi 53222
414-463-0770
adaptivebikes@emerys.com
Emerysmilw@emerys.com
www.emerys.com