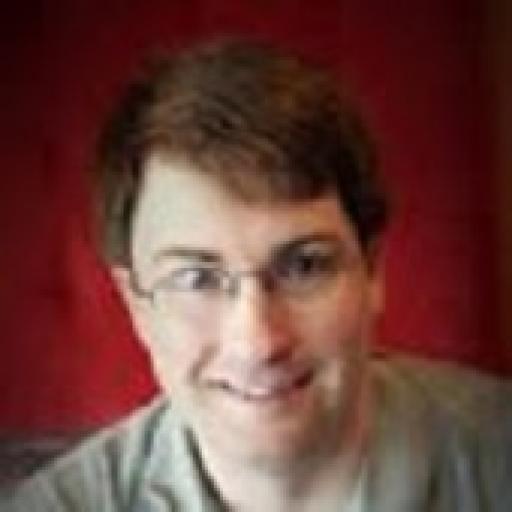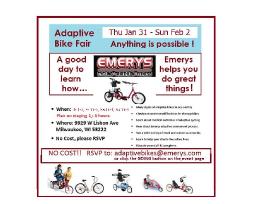 Thursday January 31 2019, 1:00 PM - Sunday February 3 2019, 3:00 PM
@ 9929 W Lisbon Ave Milwaukee, Wisconsin
Attendees: @Kurt
WHEN:
Jan 31 to Feb 2
Thursday 1p-7p, Friday 11a-7p, Saturday 11a-4p, Sunday 11a-3p. 

WHO: 
This is a learning opportunity for anyone who works with the differently-abled: 
Therapists, therapy clinics, school systems, pediatric hospitals, orthopedic doctors and staff, PA's, nurses, recreation departments, group homes, parents, care givers, funding agencies etc.

WHAT: See the many bikes, adaptations, parts, and solutions we have for indoor and outdoor bicycling for CP/ Spina-Bifida/ MS/ Parkinsons/ Low Tone etc, Downs, Autism, Impaired or missing limbs, Cognitive, Balance or Sight issues, Brittle Bone, Strokes, Aged, other syndromes and disorders etc,

WHY: 
Learn about the many solutions we offer for mobility, therapy, exercise, socialization, and the life-changing freedom that outdoor and indoor adaptive bicycling can offer. 

DETAILS:
You will get information about and see...
• Many styles and brands of stock and customized adaptive bikes to see 
• Check out our custom modification solutions
• Learn about medical outcomes of adaptive bicycling
• Hear about our adaptive assessment process and why we do it better
• See a wide range of stock and custom adaptive bicycle parts and accessories
• Learn about strategies and products to help your clients
• Educate your staff & care givers
• Test innovative indoor riding stands for all styles of adaptive bikes
• Information and products for crank length and gearing modifications for weak or restricted movement
• Learn which bikes do well in rehab / therapy / schools / rec programs
• See bikes that have amazing growth potential as kids get taller
• Find out how we have helped some paraplegics successfully pedal under their own power! 

Emerys is the region's adaptive bicycle experts. We've crafted hundreds of stock and custom adaptive bicycles of every size, style and configuration. Our solutions have life changing, industry leading results. 

We are pleased that representatives of Variety Childrens Charity of Wisconsin will be here to talk about their funding programs for families who don't qualify for agency funding and cannot afford an adaptive bike.

This event will be at Emerys Bicycles Milw/Tosa location at: 
9929 W Lisbon Avenue, Milwaukee, WI 53222. 
Parking is available on 100th Street and on Lisbon Avenue. Overflow parking is in the bank parking lot across the street.

Check out adaptive bikes on our website at: http://emerys.com/about/adaptive-bicycles-for-the-differently-abled-pg106.htm 

Check out the 14 videos showing many adaptive bikes, parts and accessories we offer. https://www.facebook.com/pg/emeryscyclingtriathlonfitness/videos/ Click on the Playlist #1 titled "Adaptive bicycles are a specialty at Emerys"

One of our video's is 10 minutes long and is a tour of the products at one of our Adaptive Fairs. 
Keep in mind. most of what you see, we keep in stock every day of the year. 

Check out our Adaptive Bikes Facebook page at: https://www.facebook.com/AdaptiveBicyclesUSA/

Remember to RSVP on our event page
https://www.facebook.com/events/1945315405557952/
The Adaptive Bike Fair is an event to learn about the amazing approach and many products we have for adaptive bicycle solutions. 
Emerys Bicycles is the number one adaptive bike source in this part of the USA. There is no challenge we cannot come up with a solution for. Bikes for everybody and every body. Please help spread the word and share our event on your page or group. Thanks!

From our client assessment process to the stock and custom products we carry, we get the disabled riding more successfully, more comfortably and year 'round for better outcomes. There are also some bikes, adaptations, parts and accessories ready to sell.